Serving platters
Joseph and Denise asked me to make them 60 serving platters for 3 of their cafes in the Sydney CBD. I had brass brands made for their coffee label and for Woodsong. They get heated with a gas torch and burned into the wood before lacquering. The timber is red cedar. Kim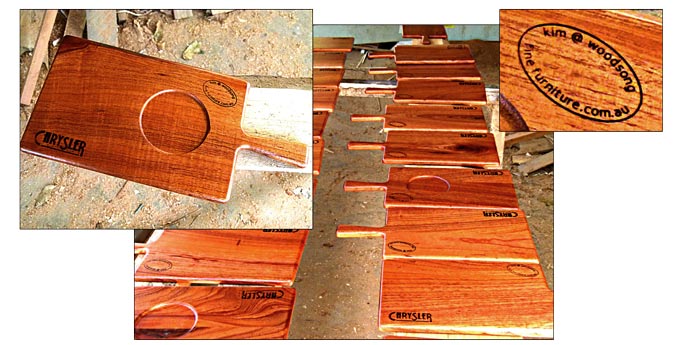 Ashley's coffee table
Ashley Rogers, a farmer friend, brought me two maple slabs and asked me to make him a coffee table. We thicknessed them and one looked okay for his table. He also brought along an old 3 x 3 hardwood beam with lots of coats of flaky paint to use for legs. He wanted to pay for the table but beause Ashley is extremely glenerous we won't let him. He has given us some really useful logs of furniture timbers from his property.
When I started working on his slab it soon became obvious that it had seen too many seasons out in the weather, and was too rotten to use, so I pulled a sheoak slab from the stacks, thicknessed it, morticed in the legs and - viola - Ashley's coffee table.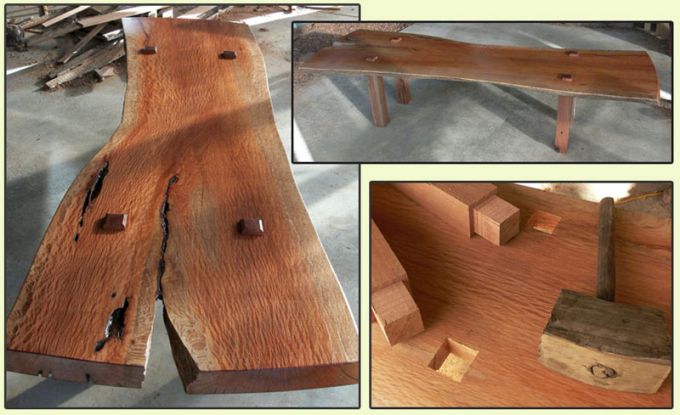 Next Day: Ashley cam'e around to pick up his table. He absolutely loves it and tried to pay us for it but we didn't let him.
He said, "You know, I've got a big old black bean tree out the back." We said, "0000000."
Kim, July 2010

Library & Tandem Storage
This library, tv-sound system and, on the right, tandem bicycle storage unit was primarily conceived to house the client's Phd thesis. Everyone needs one of these - right? The timber is brown tulip oak known by the old timber cutters as "crows foot". This timber used to be used as a hardwood flooring. These trees blew down in cyclone Larry and I bought them from a farmer who we used to play chess with years ago in the Atherton chess club.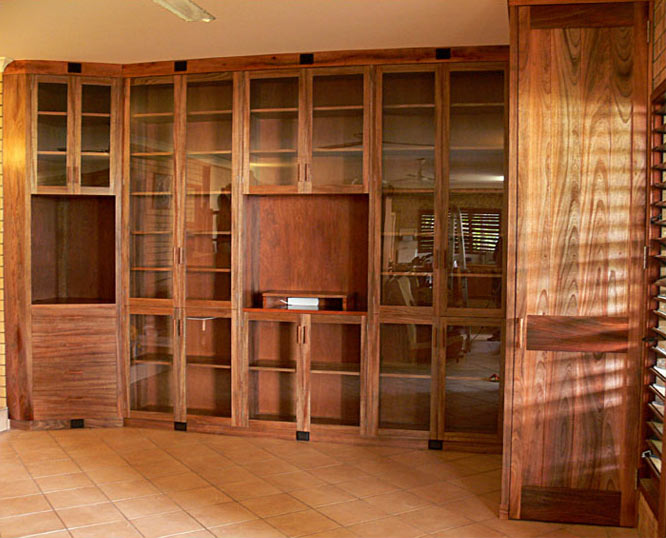 Because the door frames are narrow for that amount of glass we mortice and tenoned them to increase their strength and used toughened glass to make them kid-safe.
The black rectangles are vents at the noor and ceiling. There is continuous air now between them with slots at the backs of the shelves. This house is right on the beach at Flying Fish Point near Innisfail and looks straight out to sea. Stunning but very moist. All the hardware is stainless steel. The bicycle cabinet is long, dark and a little spooky and has been secretly named the child punishment room by Mingus. Our clients love it ... What can we say?
Kim September, 2011

Chair Obsession
My obsession with chairs began about 10 years ago but really heated up with the deveopment of these chairs. They were all dining sets of from 6 to 12 chairs made over the last 3 years, in numerical order.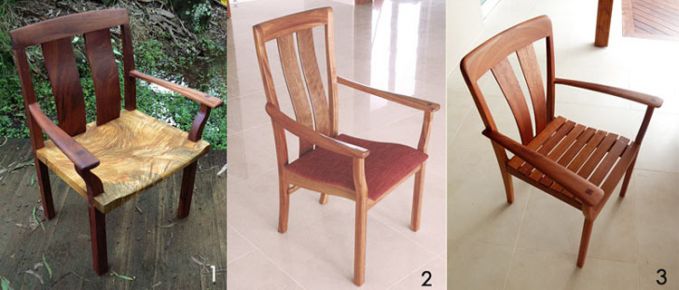 With Mingus as my cohort our aim has been to create something we liked to look at and that was so comfortable that you didn't want to get out of it. Also, the joints are nearly all mortice and tenons - intended to give them the strength to last for generations. We have focused on making full sets of arm chairs (traditionally called "carvers") because they allow you to relax in a way you cannot in an ordinary dining chair.
We always swear that each chair will be our last new design (each new chair takes days to refine and make jigs for) and that we will recover our costs by making the same chair again and again, but all this is in vain.

Pratt Residence Office
This commission started with a phone call - "How would you like to build us the dream office?".
Both Thane and Linda are naturalists so I "dreamed up" the theme of back-lit transparencies of botannical specimens both as focal points and to dehumidify the cabinets.
These cabinets were built for their pole house in nearby Topaz where it rains up to 6 metres a year. This Camera storage cabinet (top) is red cedar. The doors are through-tenoned from river red gum with walnut crossbars and ebony handles. The benchtop in the foreground is maple. silkwood.

Corner display cabinet
There are two corner display units like the one pictured at top left, each containing three transparencies backlit with LED strip lighting. The delicate 12mm thick red cedar shelves are tenoned into the vertical panels.
The library unit (at right), red cedar with redgum doors (it is three doors wide), has six backlit panels and is vented throughout with slots behind shelves and transparency boxes for dehumidification.
The clients arrive from their other home in Hawaii in about ten days and are very excited about their new office. Kim

File Drawers
There are four drawer units in the office, all solid red cedar with camphor laurel inset panels.
They are all on castors (concealed by the skirting) to allow workstation flexibility.
The walnut button at centre bottom activates a locking device we designed to allow the drawers to be opened without moving the unit.
The drawer pulls are concealed recessed bevels above the camphor laurel panels.